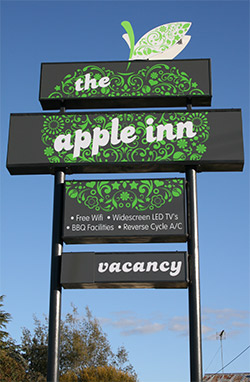 Great Location
| | |
| --- | --- |
| Batlow Town Centre | 1 min |
| Batlow RSL | 1 min |
| Tumut | 25 min |
| Adelong | 23 min |
| Tumbarumba | 35 mins |
| Gundagai | 49 min |
| Wagga Wagga | 1h 25 min |
| Canberra | 2h 30 min |
| Sydney | 4h 30 min |
| Melbourne | 5h 30 min |
| Snowy Mts/Jindabyne | 2h 40min |
| Mount Kosciuszko | 2h 50min |
| Thredbo | 2h 50min |
| Selwyn Snowfields | 1h 30min |
Find Us
Address
1 Tumbarumba Road
Batlow NSW 2730 [map]
Call Us
Tel: 02 6949 1342
M: 0490677164
Great Reasons to
Stay With Us
| | |
| --- | --- |
| | Free WiFi Internet |
| | We treat you like family |
| | All rooms are non-smoking |
| | Reverse cycle air-conditioning |
| | Widescreen LED TV |
| | Book Securely Online |
| | Onsite parking at your door |
| | Tea / Coffee making facilities |
| | BBQ facilities |
| | Nearby restaurants |

Things To Do Around Batlow, NSW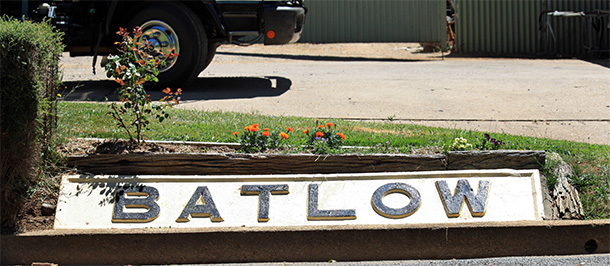 The Apple Inn is the perfect base while exploring the Batlow area and the NSW Southern Slopes. Local activities include"
Bushwalking

- Walk a section of the Hume and Hovell Track. The Hume and Hovell Walking Track stretches over 440km between Yass and Albury, in New South Wales, Australia. The track allows walkers to rediscover the route of explorers Hamilton Hume and William Hovell on their expedition to Port Phillip in 1824.

Country Drives

– Take a scenic drive to the cool climate wine region of Tumbarumba and sample some of Austlralias' finest wines. We recommend Mannus Estate Winery for a relaxed informal wine tasting experience.

Yarrangobilly Caves

– Explore the caves and swim in the thermal pool located at the caves site The water is always warm (27 degrees) because rain water seeps through porous rock to almost 800 metres below the ground surface where it is I heated and forced up through cracks to emerge as a warm spring.

Blowering Dam

– Pack a picnic and head for a swim and/or water skiing in the upper reaches of the mammoth Blowering dam, the last catchment of the Snowy Mountains Scheme.

Sugar Pine Walk

– Experience the overwhelming size of these majestic trees. Setting foot on Sugarpine walk is like walking into a natural cathedral, pine needles carpet the ground and soften every footfall.

Apple orchards and berry picking

- Australia's premium apple growing region hosts a variety of fruits and berries ripe for you enjoyment. There are numerous roadsides stalls offering a seasonal fruits and vegetables.
Festivals – centrally located for easy to the regions festivals including, Tumbafest, Batlow Apple Blossom Festival, The Cider Festival , Adelong Gold and Antique Fair and Tumut's Festival of the Falling Leaf.

Buddong Falls

- A short trip from Batlow, the magnificent Buddong Falls comprises tow district waterfalls. An easy walk accesses the top most fall, and a much longer, steeper walk to access the bottom set of falls. The Buddong Falls are just one of the wonders of the Hume and Hovell walking track.

Pioneer Womens Hut

- The Pioneer Women's Hut is a small museum of national importance located just 8kms out of Tumbarumba. The museum displays a themed collection of everyday objects used by rural women in Australia from the 1900's.
Links: