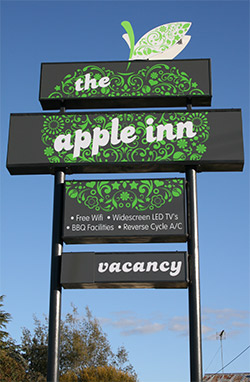 Great Location
| | |
| --- | --- |
| Batlow Town Centre | 1 min |
| Batlow RSL | 1 min |
| Tumut | 25 min |
| Adelong | 23 min |
| Tumbarumba | 35 mins |
| Gundagai | 49 min |
| Wagga Wagga | 1h 25 min |
| Canberra | 2h 30 min |
| Sydney | 4h 30 min |
| Melbourne | 5h 30 min |
| Snowy Mts/Jindabyne | 2h 40min |
| Mount Kosciuszko | 2h 50min |
| Thredbo | 2h 50min |
| Selwyn Snowfields | 1h 30min |
Find Us
Address
1 Tumbarumba Road
Batlow NSW 2730 [map]
Call Us
Tel: 02 6949 1342
M: 0490677164
Great Reasons to
Stay With Us
| | |
| --- | --- |
| | Free WiFi Internet |
| | We treat you like family |
| | All rooms are non-smoking |
| | Reverse cycle air-conditioning |
| | Widescreen LED TV |
| | Book Securely Online |
| | Onsite parking at your door |
| | Tea / Coffee making facilities |
| | BBQ facilities |
| | Nearby restaurants |

Frequently Asked Questions
Q: What is the earliest I can Check-in?
A: Standard check-in time is 1pm
Q: Can I arrive late?
A: Yes, please give us a call if you're wanting to arrive after 8pm
Q: Do you have undercover parking?
A: No, however each room has car parking located directly outside the room. Additional parking is available on the site if needed.
Q: Are your rooms non-smoking?
A: Yes, all rooms at The Apple Inn are non-smoking
Q: Do you have a restaurant?
A: No, however, the Batlow RSL club is located conveniently next door offering evening dining .
Q: Do you have room service?
A: We serve continental breakfast baskets in the guest rooms.
Q: Do you have wireless internet in guest rooms?
A: Yes, we provide free wireless internet to all of our rooms
Q: Do you have an outdoor entertainment area?
A: Yes, we have a garden BBQ area
Q: How close are you to the shops and entertainment?
A: Within 20 minutes by car either direction to Tumut or Tumbarumba where you will find shopping centres offering major stores including Target, Woolworths and Coles. There are also many small boutiques, cafes and heritage hotels. Also visit the Historic Tumut Montreal Theatre 8 Nest Cinema Complex.
Q: How close are you to restaurants?
A: The Apple Inn is within 20 minutes scenic drive by car of number of restaurants and fast food outlets including McDonalds, KFC, Eagle Boys Pizza, Chinese, Thai and Japanese restaurants. Please visit Google Maps for a detailed list
Q: Do you have Foxtel?
A: No, however we have a smart flat screen TV in each room.
Q: What is your Cancellation Policy?
A: Cancellations must be made at least 24 hours prior to check in date and time. Cancellations received less than 24 hours will incur a fee.
Q: How do I guarantee by booking?
A: Credit card details are required to secure room booking or a cash bond. Bookings are provisional unless credit card details are provided and approved. A deposit may be requested. Payment in full is required upon your arrival.